This is part of the ongoing series of articles by Bottom Line Boomer. The purpose is to help individuals gain financial knowledge for today's world.
What is an Emergency Fund?
An Emergency Fund is accessible money to help maintain your financial life when an emergency occurs.
Think of it as your own personal lifestyle insurance.
According to a recent survey, nearly half of American adults say they could not cover a $500 emergency expense.
Such expenses like unexpected medical bills, home or auto repair, a sudden need to travel to visit an ailing friend or relative, or even a job loss would send many Americans into debt!
Without these funds you may be forced to use high interest credit cards, take out loans, borrow from a friend or relative, or even file for bankruptcy.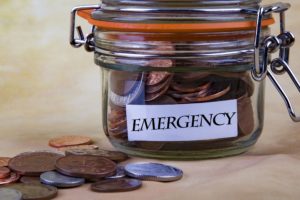 How should I setup an Emergency Fund?
The funds should be accessible as you may need them quickly.
I recommend having more than one fund that you can access.  For immediate and smaller expense situations, you should have actual cash on hand.
This fund will be the smallest but the most accessible.  This should be stored in a fire-proof lock box or a safe.
Once you have actual cash on hand safely stored, move on towards setting up a savings account.
The bulk of the readily available funds should be saved in a savings account, preferably not one that you would see every day.
Other options for very dire situations can be cash value in a life insurance policy, after tax funds in a 401k, ( as long this is not part of your retirement funds), and a home equity line of credit.
My recommended fund value varies from a minimum of $1,000 to 3-6 months living expenses.  I feel 3 months is adequate for most, but your situation may be different.
There are many ways to fund these accounts, but most importantly you should be passionate and make it fun!
Make your weekly savings goal attainable.
Saving just $25 per week will give you $1,300 in only one year!
Cutting some wasteful variable expenses weekly will easily net the $25.
But other ways are to put any tax refunds, bonuses from work and even some extra money from a fun part time job into your Emergency Funds.
In conclusion, an Emergency Fund is the foundation of any financial plan.
To review, start with actual cash on hand in a safe. Then, start a savings account and have a disciplined saving budget.
With these funds in place you will have peace of mind knowing that you will have a bridge over troubled waters and will help you begin to secure your financial future.
Next week we will cover the theory and implementation of float and the value of credit card use.
Bottom Line Boomer has lived in Colorado for 40 years and has been a lifelong student of personal finance. His goal is to help provide a much needed education on personal finance for today's world.